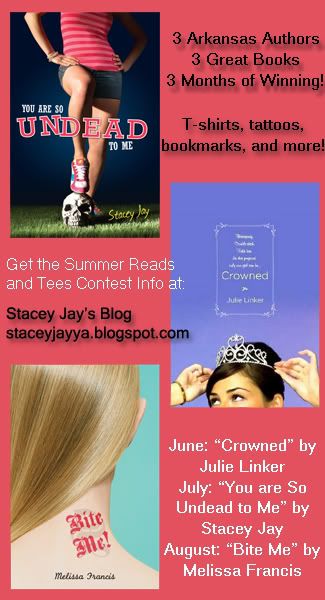 In support of Arkansas and Authors and T-shirts, I do hereby offer up this kick ass contest for your summer enjoyment. I'm honored to be giving away a copy of "Crowned" by my good friend Julie Linker and of "Bite Me", by the fabulous Melissa Francis' as well as some very cool tees. Here's what you win!
JUNE: A copy of "Crowned" by Julie Linker and the T-shirt below, as well as an Arkansas Author goodie bag with bookmarks, tattoos, and more.
JULY: A copy of "You are so Undead to Me" by Me!, the shirt below, and a goodie bag.
AUGUST: A copy of "Bite Me" by Melissa Francis and the shirt below and a goodie bag.
HOW DO I ENTER? you may be asking yourself. Here's how you enter:
Leave a comment here or send me an email (stacey.jay.ya at gmail.com) and let me know how you get the word out about books you love. (Do you blog? Facebook? Myspace? Accost random people on the street to tell them about the pure Awesome of your latest read?) I want to know!
For an additional chance to win, blog about any one of the Arkansas Authors (or the Summer Reads and Tees Contest) and your name will be thrown in the pot again. (Post here or email me with the link to let me know you posted.)
And for yet additional chances to win, keep checking the blog for Super Entry days. I'll post a blog with the words "Super Entry" somewhere in the text. Be one of the first five to comment on the post and you'll be entered five times!!! Could I use more exclamation points!!! Probably, but I won't!!!
Winners announced at the end of each month. So let the entering begin.
Stacey Jay
Contest Disclaimer: Open to citizens of the continental United States and Canada only. All t-shirts are large or extra-large, one size fits all differently, you can wear it to sleep in etc.